Regent Emeritus William De La Peña, M.D.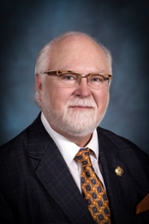 The Honorable William De La Peña, M.D. is a professor of ophthalmology, and founder and medical director of the De La Peña Eye Clinics throughout Southern California. After graduating first in his class at the Autonomous University of Guadalajara (Summa Cum Laude), he completed his residency in Ophthalmology at the University of California, Irvine, followed by two one-year fellowships in cornea at Louisiana State University and the University of London. He is founder and president of the Fundación Oftalmológica De La Peña, the founder of the World Federation of Cataract and Refractive Surgeons, and the founder and Chairman of the Latin American Society of Cataract and Refractive Surgeons, non-profit organizations dedicated to the education of ophthalmology throughout the world.
Dr. De La Peña was appointed by President George W. Bush and confirmed by the U.S. Senate as Regent to the Uniformed Services University for Health Sciences, and served as a Special Delegate to the United Nations. He was granted the Doctor Honoris Causa degree by his Alma Mater, the Achievement Award by the American Academy of Ophthalmology and multiple honorary memberships in ophthalmology societies in many countries. Other business interests include the media and soccer. He served as Chairman of the Professional Division of the U.S. Soccer Federation, and Chairman of Sonia Broadcasting Company, Television Networks.

Dr. De La Peña was appointed in 2006 by Governor Schwarzenegger to a 12-year term. He was granted Regent Emeritus status by the Board on January 2018 citing he had exemplified the best in public service and commitment to the mission of the University and the people of California.

Term of Appointment
Appointed:
August 18, 2006
Term expired:
March 1, 2018
© Regents of the University of California |