Regent Emertius Paul Monge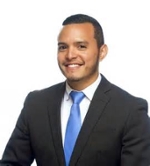 Paul Monge was the 2017-18 Student Regent. During his term as a Student Regent, he was pursuing a Juris Doctor degree at the UC Berkeley School of Law.
Mr. Monge is a first-generation college graduate and the son of immigrant parents from El Salvador. Growing up in El Salvador and resettling in the San Francisco Bay Area, he went on to pursue a B.A. in Global Studies and Sociology at the University of California, Santa Barbara. As an undergraduate at UCSB he focused on social justice advocacy around worker and immigrant rights, served as president of the University's student body and graduated summa cum laude with election to Phi Beta Kappa in 2011.
After a year in New York City government working as a policy analyst for Mayor Michael Bloomberg on designing anti-recidivism interventions for young men of color leaving the justice system, Mr. Monge returned to San Francisco to work as a political organizer for the region's largest public sector labor union, SEIU Local 1021. He has organized to address issues of educational inequity within San Francisco public schools as the policy director for Coleman Advocates for Children and Youth, a non-profit organization with a thirty-year legacy of advocating for low-income communities of color in San Francisco. Additionally, he has served as a Commissioner on the San Francisco Youth Commission where he was appointed by Mayor Ed Lee to represent the unmet needs of San Francisco's children, youth and their families.
Mr. Monge also holds a Masters in Public Policy from Harvard University. 
Term as Regent
Term as Student Regent
July 1, 2017 - June 30, 2018
© Regents of the University of California |