Regent-designate Merhawi Tesfai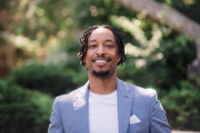 Merhawi Tesfai is the 2022-23 Student Regent-designate and 2023-24 Student Regent. He is a graduate student at UCLA studying social welfare. He received dual Master's degrees in Social Welfare and Public Policy from UCLA, as well as a bachelor's degree from UCLA in African American Studies, and an associate degree for transfer from Los Angeles City College.
Mr. Tesfai has extensive experience in counseling, at both clinical and governmental levels. He previously worked at the Venice Family Clinic where he assisted unhoused patients access Medi-Cal benefits. He also has worked at Venice Community Housing assisting clients in supportive and transitional housing. Mr. Tesfai served as a counseling intern at CRI-Help Residential Treatment Center and Helpful Hands Intensive Outpatient Program where he facilitated individual and group counseling sessions.
He was a Luskin Leader Fellowship Recipient at the Venice Family Clinic, a 2019-20 UCLA Graduate Opportunity Fellow, and was in the African Departmental and College Honors Programs in 2019. He is a recipient of the UCLA Academic Advancement Program Scholarship, the Suggs Family Endowed Award, and the Macdowell Scholarship.
Mr. Tesfai was born in Eritrea and immigrated to the United States as a child. He is a first-generation transfer student.
Mr. Tesfai is dedicated to expanding the work being done to recruit students from the community college system through programs like the Center for Community College Partnerships, the Academic Advancement Program, and the Transfer Alliance Program. He is also committed to expanding the University's admissions to improve access and affordability for students from under-represented communities.
Term as Regent
Term as Student Regent-designate
July 1, 2022 - June 30, 2023
Term as Student Regent
July 1, 2023 - June 30, 2024
Committee Membership (2022-2023)
Academic and Student Affairs

Public Engagement and Development