Regent-designate Marlenee Blas Pedral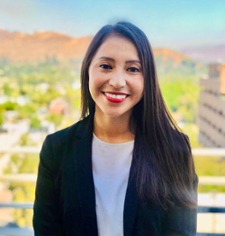 Marlenee L. Blas Pedral is the 2021-22 Student Regents-designate and 2022-23 Student Regent. She is a graduate student at the University of California, Berkeley, School of Law, received her M.Ed. in Higher Education from the University of Vermont, and has a B.A. in Global Studies from the University of California, Santa Barbara.
Ms. Pedral was a career counselor at UC Riverside and later served as associate director of UC Riverside's Center for Social Innovation. While there, she co-founded the Butterfly Project, which provides internships and professional development for undocumented students, and the UC Riverside Career Closet, which provides students with professional attire for interviews and career fairs.
During her first year at Berkeley Law, she was elected as a graduate representative and served on the Political and Election Empowerment Project.
Ms. Pedral was born in an Otomi indigenous community in San Pedro de Los Metates, Mexico and was raised in the Inland Empire. She is a first-generation student and has earned several accomplished awards. After completing her master's degree in higher education, she was awarded a Fulbright Fellowship to Brazil.
Ms. Pedral is passionate about promoting access to an affordable, quality education for all Californians and providing an inclusive campus climate for the entire UC community.
Term as Regent
Term as Student Regent-designate
July 1, 2021 - June 30, 2022
Term as Student Regent
July 1, 2022 - June 30, 2023
Committee Membership (2021-2022)
Academic and Student Affairs
Investments
Public Engagement and Development


© Regents of the University of California |