Regent Jose Hernandez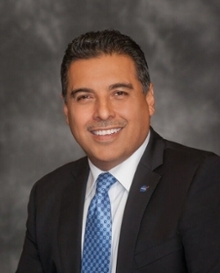 Jose Hernandez is the President and Chief Executive Officer at Tierra Luna Engineering, LLC, an aerospace company. Mr. Hernandez previously served as President of PT Strategies at PT Capital/PT Strategies from 2013 to 2016. Before that, he was the Executive Director of Strategic Operations at MEI Technologies from 2011 to 2012.

Mr. Hernandez worked at NASA Johnson Space Center from 2001 to 2011, where he was an astronaut, legislative analyst, branch chief and materials research engineer. He was on the STS-128 shuttle mission, during which he oversaw the transfer of more than 18,000 pounds of equipment between the shuttle and the International Space Station and helped with robotics operations. The STS-128 mission traveled more than 5.7 million miles in just under two weeks.

He also held numerous roles at Lawrence Livermore National Laboratory (LLNL) including program manager and engineer. While at LLNL, he worked in helping develop the X-ray laser as part of the Strategic Defense Initiative, the nuclear nonproliferation arena helping the newly formed Russian federation establish materials, protection, control and accountability measures, and engaged in work with a commercial partner that resulted in the creation of the first full-field digital mammography imaging system, used for the earlier detection of breast cancer.
Aside from leading Tierra Luna Engineering, Mr. Hernandez is a vineyard farmer and produces his own line of wines under the label of Tierra Luna Cellars, Inc. He also has a foundation called The Jose Hernandez Reaching for the Stars Foundation that focuses on awareness of STEAM careers for kids in the Central Valley.
He is a member of the League of United Latin American Citizens and Latinos in Science and Engineering.
Mr. Hernandez earned a Master of Science degree in Electronic Engineering, Signals, and Systems from University of California, Santa Barbara and a Bachelor of Science in Electrical Engineering from the University of the Pacific. He also holds honorary doctorate degrees from La Alianza Internacional, AHCASA de Marruecos, Universidad Michoacan de San Nicolás de Hidalgo, Marymount University, University of Laverne, Universidad Popular Autonoma del Estado de Mexico, Universidad Autonoma del Estado de Puebla, National Hispanic University, and University of the Pacific. 
He was appointed as a Regent in August 2021 by Governor Newsom to a term expiring in 2033.

Term of Appointment
Appointed:
August 20, 2021
Term expires:
March 1, 2033
Committee Membership (2022-2023)
Academic and Student Affairs
National Laboratories 
Public Engagement and Development
Innovation Transfer and Entrepreneurship
Nominations