Regent Emeritus Jamaal Muwwakkil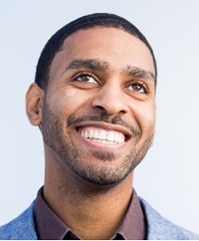 Jamaal Muwwakkil M.A. was the 2020-21 Student Regent. At the time of his term as a Regent, he was a graduate student at the University of California, Santa Barbara, in the Ph.D. program where his research specializations include African American language and culture, sociocultural linguistics and political discourse.
As a first-generation college student, Mr. Muwwakkil transferred from Los Angeles City College to UCLA, where he earned his bachelor's degree in applied linguistics with college and departmental honors. While at UCLA, he completed an undergraduate thesis focused on the institutional discourse surrounding peer-to-peer file sharing. At University of California, Santa Barbara, his M.A. thesis addressed the discourse of politically conservative student groups on a UC campus. His dissertation research focuses on institutional discourses concerning diversity and inclusion at minority serving institutions.
Consistently engaged in advocacy, Mr. Muwwakkil served as a peer mentor with the Center for Community College Partnerships while an undergraduate, and served as president of the Black Graduate Student Association at UC Santa Barbara. Additionally, he works with UC-HBCU Pathways Initiative and other outreach programs to aid in UC access for underrepresented students.  
Term as Regent
Term as Student Regent
July 1, 2020 - June 30, 2021
© Regents of the University of California |