Regent Hadi Makarechian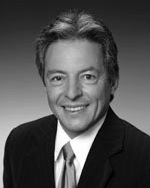 Hadi Makarechian serves as Chairman of Makar Properties Board of Directors and Banning Lewis Ranch Management Company. He received his B.S. in Civil Engineering and his B.A. in Economics from the State University of New York.
Prior to his retirement in June 2008, Mr. Makarechian served as chief executive officer and chairman of the board of directors of Capital Holdings, Inc., a company he founded in 1991. He also founded and served as president of Shamron Corporation from 1979 to 1991.
Mr. Makarechian was appointed as a Regent in October 2008 by Governor Schwarzenegger to a term ending in 2020.
Term of Appointment
Appointed:
October 24, 2008
Term expires:
March 1, 2020
Committee Membership (2019-2020)
Compliance and Audit
Finance and Capital Strategies (Chair)
Governance
Health Services
Investments

© Regents of the University of California |