Regent Hadi Makarechian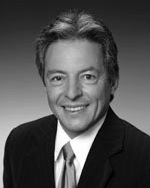 From 2000 to 2008, Hadi Makarechian was founder and Chairman of the board of Makar Properties, overseeing multi-billion dollar commercial, hospitality and land development projects across the United States.
From 1991 to 2008, he was founder, Chief Executive Officer and Chairman of the Board of Capital Pacific Holdings (CPH). CPH was a nationally recognized developer and home builder that built, sold and financed, over 60,000 high-end homes across California, Arizona, Texas and Nevada. The company won numerous design awards from Professional Big Builder magazine and was featured on CNN, Good Morning America, Today London, Forbes, Newsweek, New Yorker as well as other renowned architectural and international magazines.
From 1979 to 1991, he was founder and President of Shamron Corporation which built high-rise projects in Florida and the Washington DC areas.
Mr. Makarechian was listed in the Los Angeles Times in 2006 as "The West 100" most powerful people in Southern California.
He served as a member of the Board of Trustees of Chapman University for 8 years and is the recipient of 2002 Chapman University Citizen of the Year award. He also is the recipient of 2008 Horatio Alger award in Washington D.C. where the organization bestows the award on outstanding Americans who exemplify dedication, purpose and perseverance in their personal and professional life when the recipients have often achieved success in the face of adversity.
Mr. Makarechian graduated in 1972 from State University of New York School of Engineering and applied Sciences with a Bachelor of Science in Civil Engineering and also holds a Bachelor of Arts in Economics. He is a member of its Delta society, a member of School of Engineering and Applied Sciences Dean's Council and also a recipient of the school of Engineering and Applied Sciences dean's award, the highest award given to a graduate who has contributed significantly to the advancement of their field through performance.
He was born in 1948 and currently resides in Montecito, CA with his wife Barbara with whom he has two sons, Paul and Cyrus. He enjoys flying and is a certified multi engine instrument jet pilot and a member of the Orange County Sheriff Aero Squadron and the Sheriff Reserves program since 2004.
Mr. Makarechian was appointed as a Regent in October 2008 by Governor Schwarzenegger and reappointed in March 2020 by Governor Newsom to a term ending in 2032.
Term of Appointment
Appointed:
October 24, 2008
Reappointed:
March 2, 2020
Term expires:
March 1, 2032
Committee Membership (2023-2024)
Compliance and Audit
Finance and Capital Strategies (Vice Chair)
Health Services
Investments