Regent Geoffrey Pack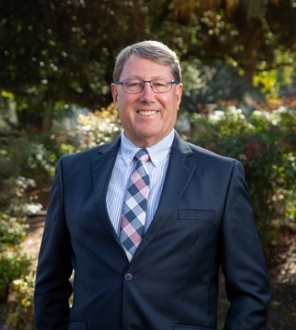 Geoffrey Pack is a retired naval officer and a former official with the city of San Diego. His naval career included command of a destroyer, a hovercraft facility, and a squadron of logistics ships, all operating in the Indo-Pacific region. He also served four US ambassadors while serving as Defense Attaché to Denmark and Naval Attaché to Lithuania. He was subsequently awarded an honorary knighthood by Queen Margrethe for his contribution to Danish and US security cooperation.
More recently, Mr. Pack served as an emergency manager, where he developed response, recovery, and mitigation plans for a range of natural disasters and human-caused events. He also managed emergency planning efforts for people with disabilities and others with access and functional needs. He later became the city of San Diego's first program coordinator for the prevention of targeted violence.
He currently serves as the Secretary-Treasurer of the UC Riverside Alumni Association (UCRAA), where he has served on the Board of Directors for the past six years.
Mr. Pack earned a B.A. degree in History and a B.S. degree in Anthropology from UC Riverside. He also completed a year abroad at the University of London. He later received a Master of Arts in Law and Diplomacy from the Fletcher School at Tufts University and a Master of Science degree in Medical Anthropology from Durham University in the UK. Mr. Pack also completed the US Marine Corps War College and the Royal Australian Navy Staff College. He is currently pursuing a Master of Science degree in Bioethics at the School of Medicine at Harvard University.
He is currently the Treasurer of the Alumni Associations of the University of California (AAUC) and will serve as an Alumni Regent-designate for one year as of July 1, 2023, and an Alumni Regent for one year commencing July 1, 2024.
Term of Appointment
Term as Alumni-Regent-designate
July 1, 2023 - June 30, 2024
Term as Alumni-Regent
July 1, 2024 - June 30, 2025
Committee Membership (2023-2024)
Academic and Student Affairs 
National Labs