Regent Elaine Batchlor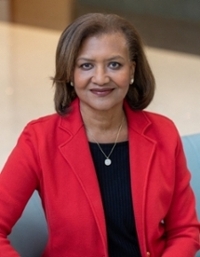 Elaine Batchlor, MD, MPH, is the Chief Executive Officer at MLK Community Healthcare, a health system that includes a state-of-the-art private safety net hospital, the MLK Community Medical Group, community and population health programs, and a fundraising foundation. Dr. Batchlor's innovative work to increase access to quality healthcare for underserved populations has been recognized nationally, earning her membership in the prestigious National Academy of Medicine. In 2019, she was recognized as an Irvine Foundation California Leader.
Before assuming leadership of MLK Community Healthcare, Dr. Batchlor served as Chief Medical Officer of L.A. Care Health Plan, the nation's largest public health plan providing care for a safety net population. She has also served as Vice President at the California Health Care Foundation, where she developed and oversaw research, policy analysis, and programs aimed at improving health care financing and delivery in California. 
Dr. Batchlor is a member of the Zetema Project, a group of national health experts focused on improving policy and business decisions in the U.S. healthcare system. She is a member of the Board of Directors of the California Hospital Association and the Hospital Association of Southern California, as well as The Integrated Healthcare Association and Insure the Uninsured Project. She serves on the Health Affairs Editorial Board and is an Advisory Board member for the UCLA Fielding School of Public Health and the Hospital Quality Institute. 
She holds a Bachelor of Arts degree from Harvard University, a Masters of Public Health from UCLA, and a Doctorate of Medicine from Case Western Reserve University. She is board-certified in both internal medicine and rheumatology.
Dr. Batchlor was appointed as a Regent in July 2022 by Governor Newsom to a term expiring in 2033.
Term of Appointment
Appointed:
July 22, 2022
Term expires:
March 1, 2033
Committee Membership (2022-2023)
Academic and Student Affairs