Regent Emerita Charlene Zettel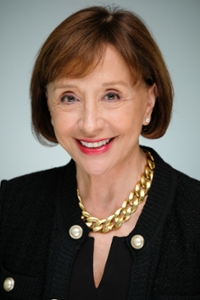 Charlene Zettel is a former California State Assemblymember representing the 75th Assembly District from 1998-2002; and was the first Republican Latina elected to the state legislature. As a legislator, she championed laws protecting seniors, the developmentally disabled and children from abuse. Besides serving as Republican Caucus chair, she was vice-chair of the Jobs and Economic Development committee, and a member of Appropriations, Education, Health, Rules, and Transportation committees.
Previously, Ms. Zettel was appointed as Director of the California Department of Consumer Affairs (DCA) and provided oversight for over 40 regulatory boards and bureaus, employing over 2,000 people and licensing 2.5 million Californians. As Director of DCA, she led a collaboration of federal, state, and local law enforcement agencies to battle identity theft and to protect children from online predators.
In the non-profit area, Ms. Zettel served as Chief Executive Officer of Donate Life California, the state-authorized nonprofit administering the nation's largest organ and tissue donor registry, serving from 2011-2016 and growing the registry from eight to twelve million registered donors before her retirement.
Ms. Zettel also served as Interim CEO for the San Diego/Imperial Counties Region of the American Red Cross in 2017 until a permanent CEO was selected. She now serves as Vice-Chair of the American Red Cross Board of Directors.
Other public service included election to the Poway Unified School District Board of Education in 1992 and 1996, twice serving as Board President. She also was named to the San Diego County Regional Airport Authority Board by the North San Diego County Mayors and later by Governor Arnold Schwarzenegger.
In addition to state service, Ms. Zettel received a presidential appointment in 2002 as a Public Interest Director of the Federal Home Loan Bank of San Francisco.
Raised in Los Angeles, she received a Bachelor of Science from the USC School of Dentistry where she met her husband, David. They have two grown sons, Brent and Jeff.
Ms. Zettel, was appointed to the University of California Board of Regents by Governor Arnold Schwarzenegger in 2009 for a 12-year term ending March 2021.
Term of Appointment
Appointed:
May 6, 2009
Term expires:
March 1, 2021