Regent Emerita Cecilia Estolano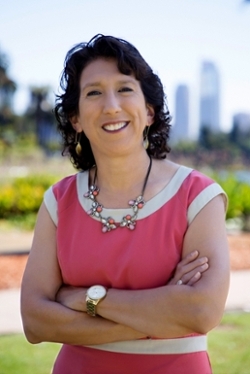 Cecilia Estolano was the Chair of the Board of Regents from July 1, 2021 to March 1, 2022. Ms. Estolano is the CEO and Founder of Estolano Advisors, an urban planning and public policy firm, and CEO of Better World Group, an environmental policy and advocacy firm. She has worked directly with public, private, institutional and nonprofit clients to plan, finance, design, implement and operate policy-driven programs and projects that promote sustainable solutions tailored for each community.
Ms. Estolano has helped to envision, plan, entitle and structure real estate transactions in support of mixed-use, urban infill redevelopment projects that advance green urbanism and environmental stewardship. As an advisor to the Goldhirsh Foundation, Surdna Foundation and Open Society Foundation, she has helped design programs and grant making strategies that promote inclusive and sustainable economic development.
She was the Deputy Chair of the Environmental Protection Agency Review Team, Energy and Environment Group for the Obama Presidential Transition Team. Her career includes service as a Special Assistant Los Angeles City Attorney, as a Senior Policy Advisor with the U.S. Environmental Protection Agency, and as Environmental Policy Advisor to former Los Angeles Mayor Tom Bradley.
Ms. Estolano sits on the boards of Manufacturing Renaissance and the National Employment Law Project. She previously served on the California Coastal Commission, and on the boards of the California League of Conservation Voters, Lambda Legal, and California YMCA Youth and Government.
She received her A.B. from Harvard-Radcliffe Colleges, her M.A. in Urban Planning from UCLA, and her J.D. from UC Berkeley School of Law. She has taught at the UCLA Luskin School of Public Affairs and the UC Berkeley College of Environmental Design.
She was appointed to the Board in August, 2018 by Governor Brown for a term ending in 2022.
Term of Appointment
Appointed:
August 6, 2018
Term expires:
March 1, 2022