Regent Emeritus J. Alberto Lemus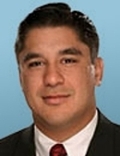 Albert Lemus is a senior vice president in the Real Estate Group for Lowe Enterprises, Inc., responsible for expanding the organization's mixed use, public-private partnerships and redevelopment in urban markets. He oversees investment opportunities through the Lowe California Community Fund and New Markets Tax Credits. Previously, he co-founded and was senior vice president of Telscape Communications, a national telecommunications firm.
In addition, Mr. Lemus is active in his community, serving on the Burbank Little League Board, Campbell Hall School Diversity Committee and the Burbank American Youth Soccer Organization. As a UCLA undergraduate, Lemus was active in the Latino Business Association and Barrio Youth Alternative.
He earned a B.A. in history from UCLA in 1991 and an M.B.A. from Stanford University in 1997.
Mr. Lemus is a past president of the UCLA Alumni Association, serving in that role from 2013-16. He served as an Alumni Regent and Vice President of the Alumni Associations of the University of California (AAUC) from July 1, 2017 to June 30, 2018. 
Term as Regent
Term as Alumni Regent
July 1, 2017 - June 30, 2018
© Regents of the University of California |