Regent Russell Gould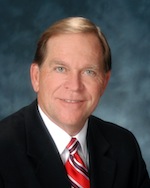 Russ Gould has had a varied career in both the public and private sectors. Currently Mr. Gould is a Partner with California Strategies, LLC, Financial Services Practice, which navigates clients through state fiscal issues and forges budget, investment management, public finance, banking, insurance, and healthcare solutions. The Practice also provides financial counsel for select public agencies with significant public finance, investment, and other complex financial challenges.
Mr. Gould previously served as a Senior Vice President of Wachovia Bank, providing leadership in business development and strategic partnerships as Senior Managing Director of Wachovia Portfolio Services, formerly Metropolitan West Securities, which he joined in 1996. While at Metropolitan West, Mr. Gould also served as Executive Vice President of the J. Paul Getty Trust where he was responsible for the investments of the Trust's $5.5 billion in assets.
Prior to his time at Metropolitan West, Mr. Gould was Director of the Department of Finance of the State of California from 1993 to 1996 and prior to that, served as Secretary of the Health and Welfare Agency from 1991 to 1993. Mr. Gould received his bachelor's degree in political science from UC Berkeley. He previously served as a Regent of the University of California in 1998.
Mr. Gould was appointed in 2005 by Governor Schwarzenegger to a 12-year term.
Term of Appointment
Appointed:
July 2, 2004
Term expires:
March 1, 2016
Committee Membership (2016-2017)
Finance and Capital Strategies
Governance and Compensation (Vice Chair)
Public Engagement and Development
Investments (Vice Chair)