Regent Marcela Ramirez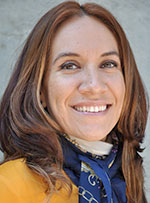 Marcela Ramirez is the 2016-2017 Student Regent. She is a Ph.D. student at the University of California, Riverside in the Higher Education Administration and Policy program through the Graduate School of Education. Ms. Ramirez is currently serving as the graduate student representative on the UC Office of the President LGBT Advisory Committee and was previously a member of the Undocumented Student Task Force at UC Riverside. She also served as the founding director of the Middle Eastern Student Center and as the diversity initiatives coordinator in the Dean of Students Office at UC Riverside.
Ms. Ramirez received an M.S. in counseling with an emphasis on Student Development and Higher Education from California State University, Long Beach, and she received her B.A in Economics and French from California State University, Fullerton.
© Regents of the University of California |