Regent George Kieffer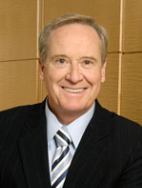 George Kieffer is the current Chair of the Board. He is a partner and member of the Executive Committee of the national law firm of Manatt, Phelps & Phillips LLP. He focuses on regulatory issues and oversees major business litigation, and business transactions.
Kieffer served as Chair of the commission charged with rewriting the Los Angeles City Charter. The new City Charter, the first full version in 75 years, was adopted in 1999. In 2000, Kieffer was named by the San Francisco Daily Journal and the Los Angeles Daily Journal as one of the 100 most influential lawyers in California and he has been listed in the Best Lawyers in America, 2005-current editions. He was named by the Los Angeles Daily Journal and San Francisco Daily Journalas one of the top 100 lawyers in California in 2010.
Kieffer is a former Chair of the Board of Directors of the Los Angeles Area Chamber of Commerce, the Los Angeles Mayor's Council of Economic Advisors, and the Board of Governors of the California Community Colleges. He is the author of The Strategy of Meetings and contributing author of Governing Public Colleges and Universities. He received his bachelor's degree in history from U.C. Santa Barbara and his J.D. degree from UCLA.
Mr. Kieffer was appointed as a Regent in May 2009 by Governor Schwarzenegger to a term ending in 2021.
Term of Appointment
Appointed:
May 6, 2009
Term expires:
March 1, 2021
Committee Membership (2017-2018)
As Chair of the Board, Regent Kieffer is ex officio member of all committees except the National Laboratories Subcommittee and Investments Subcommittee.
© Regents of the University of California |