Regent Cynthia So Schroeder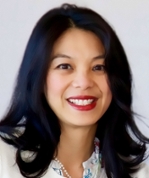 Cynthia So Schroeder is a global community and social marketing executive who advises companies and organizations on building engaged communities. Ms. Schroeder has worked in management consulting and technology in the US, Asia and Europe for over 20 years -- ranging from Fortune 500 clients to internet startups. Most recently, she served as the Head of Global Operations, Marketing and Community at Properly Inc. Previously, she lead eBay's Global Community Development and Engagement group, and managed corporate acquisitions and divestments for eBay Inc.  
Ms. Schroeder is a graduate of both the University of California, Berkeley (BA) and University of California, Los Angeles (MA). Since 2009, she has been serving on the Board of Directors for the Cal Alumni Association at UC Berkeley. She also served as CAA's President from 2013 to 2015 and is a former Trustee for UC Berkeley Foundation. In addition, she has served on several local non-profit boards focused on K-8 education.
Ms. Schroeder is currently the President of the Alumni Associations of the University of California. She serves as an Alumni Regent for one year commencing July 1, 2016.
Term as Regent
Term as Alumni Regent-designate
July 1, 2015 - June 30, 2016
Term as Alumni Regent
July 1, 2016 - June 30, 2017
Committee Membership (2016-2017)
Finance and Capital Strategies
Governance and Compensation
Public Engagement and Development
National Laboratories
 
© Regents of the University of California |