Regent Monica Lozano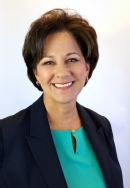 Monica C. Lozano is the current Chair of the Board. She is also the Former Chair, U.S. Hispanic Media, Inc.  Ms. Lozano also serves on various boards including the Rockefeller and Weingart Foundations.
Lozano was appointed by Governor Davis in 2001 for a 12 year term which expired in 2013.  She was re-appointed by Governor Brown in 2014 to a term ending in 2022.
Term of Appointment
Appointed:
September 21, 2001- 2013;
Reappointed March 2, 2014
Term expires:
March 1, 2022
Committee Membership (2016-2017)
As Chair of the Board, Regent Lozano is ex officio member of all committees except the National Laboratories Subcommittee and Investments Subcommittee.
© Regents of the University of California |