Regent Lark Park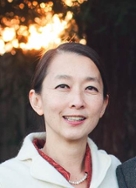 Lark Park is the Senior Policy Advisor to the Governor in the Office of Governor Edmund G. Brown Jr. She previously served as deputy legislative affairs secretary from 2011 to 2015. Prior to that, she was a consultant to the California State Senate's Committee on Human Services and to the Committee on Health.
Ms. Park served as a legislative aide and consultant to State Senator Gloria Romero in 2005 and as legislative aide and press secretary to State Assemblymember Joe Simitian from 2002 to 2005.
Prior to that, she was a staff writer at the Industry Standard, editor of equity research at W.R. Hambrecht and Co., a staff reporter at Technologic Partners and a consultant at Booz Allen Hamilton. She also served as a writer at the White House from 1994 to 1995. She earned a Master of Arts degree in English and American literature from Georgetown University and a Bachelor of Arts degree from the University of California, Berkeley.
Ms. Park was appointed as a Regent in June 2017 by Governor Brown to a term expiring in 2029.
Term of Appointment
Appointed:
June 15, 2017
Term expires:
March 1, 2029
Committee Membership (2017-2018)
Finance and Capital Strategies
Public Engagement and Development

© Regents of the University of California |