Regent Fred Ruiz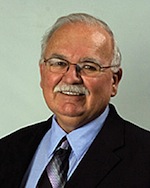 Frederick Ruiz is current Vice Chairman of the Board of Regents. He is Chairman Emeritus and Co Founder of Ruiz Foods, Inc.  Ruiz Foods is a privately held frozen food company founded in 1964; headquarters in Dinuba California with two additional facilities in Tulare, California and Denison, Texas. 
Mr. Ruiz held the position of Chairman of the Board at Ruiz Foods since 1998; he previously served as Chief Executive Officer and President of the company.  He currently serves on the boards of directors of Ruiz Foods, McClatchy Newspapers, University of California Board of Regents, California Chamber of Commerce and San Joaquin Valley Partnership. 
Additional business and community affiliations include: 2009 Chairman of the California Chamber of Commerce; Board of Trustees, University of California Merced; President's Advisory Board, California State University, Fresno; Founding Board Member of The California Endowment, The Hispanic College Fund, and The Tulare Kings Hispanic Chamber of Commerce.
Mr. Ruiz was appointed as a Regent in 2004 by Governor Schwarzenegger.
Term of Appointment
Appointed:
July 2, 2004
Term expires:
March 1, 2016
Committee Membership (2015-2016)
Compliance and Audit
Finance (Chair)
Grounds and Buildings 
© Regents of the University of California |